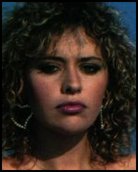 Alessandra Mussolini
Birthday: 30 December 1962
Below is a complete filmography (list of movies she's appeared in) for Alessandra Mussolini. If you have any corrections or additions, please email us at corrections@spybee.com. We'd also be interested in any trivia or other information you have.


Movie Credits
Click a movie's title to search for it at Amazon.com
Neo-Fascist Trilogy: II. In the Name of the Duce, The (1994)
Phantom Fighters (1990)
Sabato, domenica e luned́ (1990)
[ Sophia Loren ]
Derech L'Ein Harod, Ha- (1990)
Pupetta Maresca (1988)
Vincere per vincere (Made for TV) (1988)
[ Eva Grimaldi ] [ Raffaella Offidani ]
Noi uomini duri (1987)
[ Isabel Russinova ]
Assisi Underground, The (1985)
[ Roberta Manfredi ]
Qualcosa di biondo (Made for TV) (1984)
[ Sophia Loren ]
Tassinaro, Il (1983)
[ Silvana Pampanini ]
Caso Pupetta Maresca, Il (Made for TV) (1982)
Giornata particolare, Una (1977)
[ Sophia Loren ]
Bianco, rosso e... (1971)
[ Sophia Loren ] [ Tina Aumont ]
---
Amazon.com 100 Hot DVDs

Click here to buy movie posters! Naked Photos of Alessandra Mussolini are available at FemaleStars.com. They currently feature over 65,000 Nude Pics, Biographies, Video Clips, Articles, and Movie Reviews of famous stars.