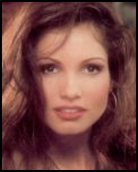 Alicia Rickter
Birthday: 21 September 1972
Below is a complete filmography (list of movies she's appeared in) for Alicia Rickter. If you have any corrections or additions, please email us at corrections@spybee.com. We'd also be interested in any trivia or other information you have.

Biography
Alicia Rickter, one of Hollywood's newest and brightest ingénues to hit television, joined the Baywatch Hawaii cast as lifeguard trainee "Carrie Sharpe." Alicia's previous television credits include a principal role on the CBS soap opera "The Young and Restless" along with guest starring roles on the WB's "Unhappily Ever After" and CBS-TV's "Thanks."

Biography courtesy of the Internet Movie Database (www.imdb.com).

Movie Credits
Click a movie's title to search for it at Amazon.com