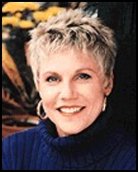 Anne Murray
Birthday: 20 June 1945
Below is a complete filmography (list of movies she's appeared in) for Anne Murray. If you have any corrections or additions, please email us at corrections@spybee.com. We'd also be interested in any trivia or other information you have.

Biography
Anne Murray is a major recording star. She has won numerous Grammy Awards, American Music Awards, as well as a number of Juno Awards in her native Canada. Anne lives in Toronto. Canada with her husband and two children. She has sold over 24 million records. She is known for such hits as "Snowbird", "Danny's Song", "You Won"t See Me", "You Needed Me", "What Would It Take" etc... Anne tours on a regular basis but limits her dates as her family comes first.

Biography courtesy of the Internet Movie Database (www.imdb.com).

Movie Credits
Click a movie's title to search for it at Amazon.com