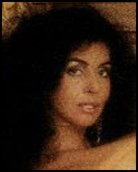 Betty Faria
Birthday: 8 May 1941
Below is a complete filmography (list of movies she's appeared in) for Betty Faria. If you have any corrections or additions, please email us at corrections@spybee.com. We'd also be interested in any trivia or other information you have.


Movie Credits
Click a movie's title to search for it at Amazon.com
For All - O Trampolim da Vitória (1998)
Perfume de Gardênia (1993)
Lili, a Estrela do Crime (1988)
Um Trem para as Estrelas (1987)
Anjos do Arrabalde (1987)
Jubiabá (1987)
Romance da Empregada (1987)
Bar Esperança (1983)
Bye Bye Brasil (1979)
Bom Burguês, O (1979)
Cortiço, O (1978)
Dona Flor e Seus Dois Maridos (1976)
Casal, O (1975)
Estrela Sobe, A (1974)
Som Amor e Curtição (1972)
Piranhas do Asfalto (1971)
Monstros de Babaloo, Os (1971)
Sete Faces de um Cafajeste, As (1968)
Lei do Cão, A (1967)
Beijo, O (1965)
---
Amazon.com 100 Hot DVDs

Click here to buy movie posters! Naked Photos of Betty Faria are available at FemaleStars.com. They currently feature over 65,000 Nude Pics, Biographies, Video Clips, Articles, and Movie Reviews of famous stars.