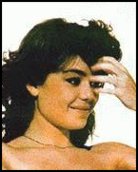 Claudia Cavalcanti

Below is a complete filmography (list of movies she's appeared in) for Claudia Cavalcanti. If you have any corrections or additions, please email us at corrections@spybee.com. We'd also be interested in any trivia or other information you have.


Movie Credits
Click a movie's title to search for it at Amazon.com
Strepitosamente... flop (1991)
Trasgressione, La (1988)
[ Milly D'Abbraccio ]
Lingua, La (1987)
Fascino sottile del peccato, Il (1987)
Maladonna (1985)
Amarsi un po' (1984)
[ Tahnee Welch ]
Bon roi Dagobert, Le (1984)
[ Isabella Ferrari ] [ Sabrina Siani ] [ Carole Bouquet ]
Attenzione, L' (1984)
[ Stefania Sandrelli ] [ Amanda Sandrelli ]
---
Amazon.com 100 Hot DVDs

Click here to buy movie posters! Naked Photos of Claudia Cavalcanti are available at FemaleStars.com. They currently feature over 65,000 Nude Pics, Biographies, Video Clips, Articles, and Movie Reviews of famous stars.