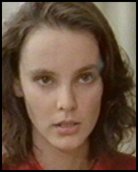 Delphine Zentout
Birthday: 1974
Below is a complete filmography (list of movies she's appeared in) for Delphine Zentout. If you have any corrections or additions, please email us at corrections@spybee.com. We'd also be interested in any trivia or other information you have.


Movie Credits
Click a movie's title to search for it at Amazon.com
Laissons Lucie faire! (2000)
[ Marie Gillain ]
Coup du lapin, Le (Made for TV) (2000)
[ Kareen Bourjade ] [ Vanessa Lhoste ]
Madame Quatre et ses enfants (Made for TV) (1999)
[ Marianne Basler ]
Danger d'aimer, Le (Made for TV) (1998)
[ Marianne Basler ]
Censeur du lycée d'Epinal, Le (Made for TV) (1997)
[ Anne Roumanoff ]
Chauffeur de maître (Made for TV) (1996)
Farinelli: il castrato (1994)
[ Marianne Basler ] [ Caroline Cellier ]
Lettre inachevée, La (Made for TV) (1993)
Oeil écarlate, L' (1992)
[ Stefania Sandrelli ]
36 fillette (1988)
---
Amazon.com 100 Hot DVDs

Click here to buy movie posters! Naked Photos of Delphine Zentout are available at FemaleStars.com. They currently feature over 65,000 Nude Pics, Biographies, Video Clips, Articles, and Movie Reviews of famous stars.