[ << Back ]

Naked Photos of Duane Allman are available at MaleStars.com. They currently feature over 65,000 Nude Pics, Biographies, Video Clips, Articles, and Movie Reviews of famous stars.
Find Great Prices on Magazines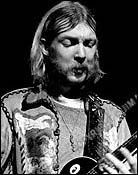 Duane Allman
Birthday: 20 November 1946
Below is a complete filmography (list of movies he's appeared in) for Duane Allman. If you have any corrections or additions, please email us at corrections@spybee.com. We'd also be interested in any trivia or other information you have.

Biography
Duane Allman was born in Nashville, Tennessee in November 1946. On Christmas Day in 1960, Duane was given a motorcycle as a gift while his younger brother, Gregg, got a guitar. A few months later, Duane wrecked his motorcycle in an accident, but traded in the spare parts for a guitar of his own. Within a year the duo played at sock hops in Daytona Beach, Florida, calling themselves the Kings. In 1965 Duane and Gregg formed their band, the Allman Joys, and toured the south, but they failed to make an impression in the music business. Duane, Gregg and a few friends drifed to Los Angeles where they formed a new band called Hourglass. After recording two albums for Liberty Records, the Allmans returned to Florida where they played with the bands Second Coming and The 31th of February. Duane frequently travled to Muscle Shoals, Alabama and played backup guitar with such great singers as Aretha Franklin, King Curtis and Percy Sledge. In 1969, Duane got his first big break when Jerry Wexler, the vice-president of Atlantic Records, offered him a solo contract. Duane formed a new band which made up of drummers Jai Johanny Johanson and Butch Trucks, guitarist Dickey Betts, bassist Berry Oakley, and brother Gregg on the keyboard. Once assembled the Allman Brothers Band settled in Macon, Georgia where they joined Phil Walden's Capricorn Records for a recording contract. The band's first album combined strains of blues, soul, rock and country music into the electrifying sound that launched Southern rock music. Their second album, "Idlewild South" climed to the top of the charts where they performed at New York's Filimore East in March 1971. The band recorded a double album released in July that year and reached the top ten, but Duane did not live to see his band's true success. On October 29, 1971, Duane Allman was riding his motorcycle down Macon's main street when a truck pulled out from another street in front of him. He lost control of his bike trying to avoid a collision and crashed head on into the rig, killing him almost immediately. He was 24 years old. The band played at his funeral. Only a year later, they gathered somberly again to bury Berry Oakley, who was killed in a motorcycle crash just three blocks away from Duane's fatal accident.

Biography courtesy of the Internet Movie Database (www.imdb.com).

Movie Credits
Click a movie's title to search for it at Amazon.com