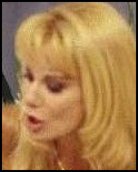 Graciela Alfano
Birthday: 14 December 1952
Below is a complete filmography (list of movies she's appeared in) for Graciela Alfano. If you have any corrections or additions, please email us at corrections@spybee.com. We'd also be interested in any trivia or other information you have.


Movie Credits
Click a movie's title to search for it at Amazon.com
Nada por perder (2001)
Taxistas del humor, Los (1987)
[ Adriana Salgueiro ]
Superagentes contra los fantasmas, Los (1986)
Invitación, La (1982)
Vacaciones del amor, Las (1981)
Departamento compartido (1980)
Drogadictos, Los (1979)
Y mañana serán hombres (1979)
Aventura de los paraguas asesinos, La (1979)
Nona, La (1979)
Custodio de señoras (1979)
Divorcio está de moda - de común acuerdo, El (1977)
Gordo catástrofe, El (1977)
Irrompibles, Los (1975)
[ Betiana Blum ]
---
Amazon.com 100 Hot DVDs

Click here to buy movie posters! Naked Photos of Graciela Alfano are available at FemaleStars.com. They currently feature over 65,000 Nude Pics, Biographies, Video Clips, Articles, and Movie Reviews of famous stars.