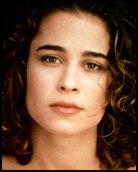 Julie Warner
Birthday: 9 February 1965
Below is a complete filmography (list of movies she's appeared in) for Julie Warner. If you have any corrections or additions, please email us at corrections@spybee.com. We'd also be interested in any trivia or other information you have.
Sexy pictures of Julie Warner can be found at FemaleStars.com
Biography
Julie grew up on the Upper West Side of Manhattan. Her father, Neil, was a musical arranger, who wrote jingles for products such as Tic-Tacs and Fig Newtons. Her mother, Naomi, is a freelance book agent. A 10 year younger brother, James, works for the New York City Parks Department. At 12, she attended the exclusive Dalton School, where she became friends with 'Mary Stuart Masterson' (qv). While there, an agent urged her to try out for a role in the movie "Pretty Baby". She didn't get it, but it did lead to a role on the soap "Guiding Light". She majored in theatre arts at Brown University and graduated in 1987. She worked as a waitress in Los Angeles, while seeking her acting break. In 1995, she married writer-director Jonathan Prince.

Biography courtesy of the Internet Movie Database (www.imdb.com).