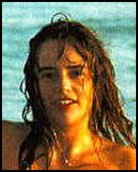 Katja Bienert
Birthday: 1 September 1966
Below is a complete filmography (list of movies she's appeared in) for Katja Bienert. If you have any corrections or additions, please email us at corrections@spybee.com. We'd also be interested in any trivia or other information you have.


Movie Credits
Click a movie's title to search for it at Amazon.com
Dämonenbrut (2000)
Polizeiruf 110 - Discokiller (Made for TV) (1998)
Federmann (Made for TV) (1998)
[ Adelheid Arndt ]
Unhappy End (1998)
[ Cathrin Vaessen ]
Lago de las vírgenes, El (1987)
[ Bea Fiedler ]
Viaje a Bangkok, ataúd incluido (1985)
Lilian (1984) (la virgen pervertida) (1984)
Furia en Jamaica (1984)
Sola ante el terror (1983)
Tesoro de la diosa blanca, El (1983)
Linda (1980)
[ Bea Fiedler ]
Eugenie (1980) (Historia de una perversión) (1980)
Schulmädchen-Report 13: Vergiß beim Sex die Liebe nicht (1980)
[ Renate Langer ]
Schulmädchen vom Treffpunkt Zoo, Die (1979)
Kenn' ich, weiß ich, war ich schon! (1979)
---
Amazon.com 100 Hot DVDs

Click here to buy movie posters! Naked Photos of Katja Bienert are available at FemaleStars.com. They currently feature over 65,000 Nude Pics, Biographies, Video Clips, Articles, and Movie Reviews of famous stars.