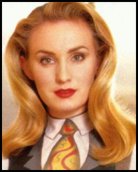 Lisa McCune
Birthday: 19 February 1971
Below is a complete filmography (list of movies she's appeared in) for Lisa McCune. If you have any corrections or additions, please email us at corrections@spybee.com. We'd also be interested in any trivia or other information you have.

Biography
Graduated from WAPA and moved to Melbourne. First recognised at Coles checkout chick in their commercials. She auditioned but missed out on Annie Jone's Part in Newlyweds but she then got the part as Maggie Doyle on "Blue Heelers" (TV). Also trained as a classical singer. Won two successive Logies. 1st was for Best Newcomer (1995) and then in 1996 she won Silvr Logie (Female) and was nominated for Gold.

Biography courtesy of the Internet Movie Database (www.imdb.com).

Movie Credits
Click a movie's title to search for it at Amazon.com