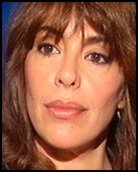 Nadia Cassini

Below is a complete filmography (list of movies she's appeared in) for Nadia Cassini. If you have any corrections or additions, please email us at corrections@spybee.com. We'd also be interested in any trivia or other information you have.


Movie Credits
Click a movie's title to search for it at Amazon.com
Giovani, belle... probabilmente ricche (1982)
[ Olinka Hardiman ]
Amiche mie (1982)
[ Olinka Hardiman ]
Miracoloni, I (1981)
Amante tutta da scoprire, L' (1981)
Assistente sociale tutta pepe, L' (1981)
Infermiera nella corsia dei militari, L' (1980)
[ Karin Schubert ]
Dottoressa ci sta col colonello, La (1980)
Io zombo, tu zombi, lei zomba (1979)
Starcrash (1979)
[ Caroline Munro ]
Io tigro, tu tigri, egli tigra (1978)
Insegnante balla... con tutta la classe, L' (1978)
[ Paola Morra ]
Ecco lingua d'argento (1976)
[ Carmen Villani ]
Spogliamoci cosė senza pudor (1976)
[ Ursula Andress ] [ Barbara Bouchet ]
Pulp (1972)
[ Janet Agren ] [ Lizabeth Scott ]
Quando gli uomini armarono la clava e... con le donne fecero din-don (1971)
Dio serpente, Il (1970)
Divorzio, Il (1970)
---
Amazon.com 100 Hot DVDs

Click here to buy movie posters! Naked Photos of Nadia Cassini are available at FemaleStars.com. They currently feature over 65,000 Nude Pics, Biographies, Video Clips, Articles, and Movie Reviews of famous stars.