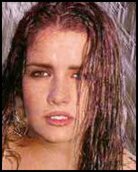 Natalia Oreiro
Birthday: 19 May 1977
Below is a complete filmography (list of movies she's appeared in) for Natalia Oreiro. If you have any corrections or additions, please email us at corrections@spybee.com. We'd also be interested in any trivia or other information you have.

Biography
Singer and Actress, Natalia Oreiro born May 19th, 1977 in Montevideo, Uruguay. She studied drama at age 8 and at 12 she auditioned in a casting for advertisements. During her teens she acted in more than 30 TV commercials for trade marks such as Coca-Cola, Pepsi and Johnson & Johnson. At 14 she cast the "paquitas" crew joined 'Xuxa Meneghel' (qv) on tours in America. She was running out of money, so, at 17 she moved out to Argentina and played some bit roles in soap operas. Also, she was working as a MTV VJ and in 1995 she got a role in the soap opera _"Dulce Ana" (1995)_ (qv). Then she was cast in the TV series _"90-60-90 modelos" (1996)_ (qv) and next _"Ricos y Famosos" (1997)_ (qv)(playing Valeria), which got attention all over Argentina and abroad. Next, she participated in the Argentinian blockbuster _"Argentino en Nueva York, Un (1998)_ (qv), in which she played as an ambitious teenager who wants to reach musical stardom. Such an ironic thing, because after the movie Natalia lauched her first record as a singer called "Natalia Oreiro" and the single "Me muero de Amor" became the opening theme for her next work in the Prime Time Show _"Muņeca Brava" (1999)_ (qv), which was an every-afternoon-smash-hit during 1998-1999 in Argentina, Europe and some countries of the Middle East. Also her album was sold in those countries. For her performance, Natalia was nominated twice (1998-99) for a Martin Fierro Award (an equivalent of Emmy Awards in Argentina) as best actress in a leading role. On January 2000 Natalia was mentioned "Celebrity of the Year" by E! Entertainment Television Network. She was pursuing her music career with the next album "Tu Veneno" and presentations in "Gala de la Hispanidad", "Gala de Murcia" (both in Spain) and "Festival de la Calle 8" in Miami. Her most important appereance was in the prestigious Latin TV Show "Sabado Gigante Internacional" (hosted by Don Francisco). Natalia's mayor achievement was her music performance in the Viņa del Mar Festival 2000, in Chile, for which she was crowned as the Queen of that event.

Biography courtesy of the Internet Movie Database (www.imdb.com).

Movie Credits
Click a movie's title to search for it at Amazon.com